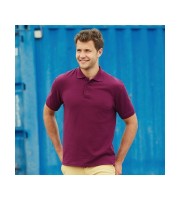 Custom embroidered polo t-shirts are the perfect corporate gift for your business. Polo shirts are popular among sports players. There are several types of t-shirts to choose from. Depending on your personal preference and clothing style, you can go with a sporty or a classy look.
Polo shirts need no introduction to those who are aware of the western wear. The popularity of polo shirts increased steadily as they began to be worn by players of golf as well.
One essential unique feature of polo shirts for which they are loved by all is that they are made of cotton fabric. he sportsmen find these garments especially comfortable for the fabric. The advantage of this fabric is that it does not make you feel uncomfortable and soaks sweat even during long hours outdoors under the hot summer sun.
Plain t-shirts - Plain polo t-shirts are perfect for any occasion. This style is ideal for printing or embroidery and can be customized to fit even the most rigorous requirements. Plain shirts are normally available in classic cotton or polyester. To keep the design simple you can place your logo on the chest pocket or on the sleeve.
Sports Look - Sports polo t- shirts differ from a plain t-shirt mainly by the selection of fabric. The best choice of fabric for this style is polyester because it is lighter as well as dries out faster than cotton. You can also go with a mixed cotton and polyester fabric, as cotton will make your garment softer to the touch and polyester will make it lightweight with a wrinkle-free look. Branding options often include print, embroidery, or silicone badges. Custom made buttons with your company name on can also be also achieved by request.
Buy plaint-shirts online in cheap price rates with high-quality - Buying cheap and original branded garments from online websites can be easy and fun, as well as time-saving. You can easily get original garments of different brands from online shopping websites at affordable price rates. The main reason why the garments of some online shopping websites cost much less than the others and as well as the official websites is that these websites buy the products directly from the factory, and do not spend thousands and thousands of dollars in advertising by renowned celebrities or such expensive methods.The prices of polo shirts of such high fashion brands are usually pretty high when you buy from the official websites of the respective brands.
Are you in a search of high-quality of plain t-shirts in affordable and reasonable rates? If yes, then choose Plaint-shirts. Plain T-shirts are in trend and are never out of fashion. We Plain T-shirts are well-known wholesale tees, clothing service providers in London, UK location for more than twenty-five years.